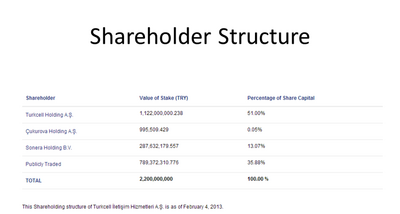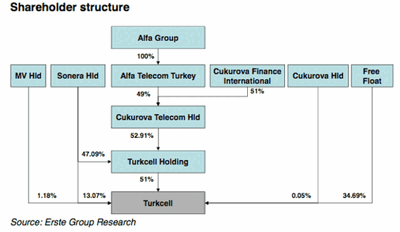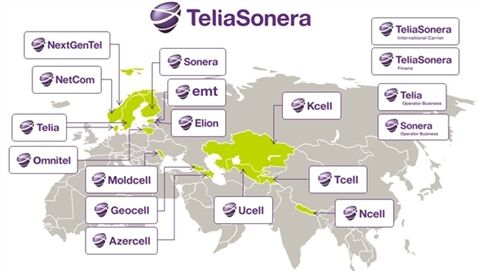 Turkcell's founding shareholders are Sonera Holding, formerly known as Telecom Finland Ltd. and currently owned by TeliaSonera, Çukurova Group and MV Holding. 
Çukurova Group is one of Turkey 's leading conglomerates, active in insurance, media, trade, industrial services, communications, information technology and tourism.TeliaSonera was formed in December 2002 with the merger of Sonera Corporation, a Finnish telecommunications provider, and Telia, a telecommunications operator in Sweden . Currently it is a major GSM operator particularly in Scandinavia .
Working together, these companies have contributed to the success of Turkcell, combining the expertise of Sonera in building GSM networks and Çukurova's local market knowledge and experience in marketing and distribution. The nominal value of the issued share capital of Turkcell is TRY 2,200,000,000 consisting of 2,200,000,000 shares each with a nominal value of 1.00 TRY per share.*  Turkcell shares are listed on the Istanbul Stock Exchange as ordinary shares and on the New York Stock Exchange as the American Depositary Shares (ADS). since July 11, 2000 . Currently 2 ADS represents 5 tradable shares .